Based on the introduction of American dry separation technology and the trial production and improvement of Shenzhou group for many times, the industrial development of ZM high-efficiency mineral separator has been realized. This technology uses the step separation principle to separate minerals such as coal, iron sulfide and reject according to the density difference of different materials. At the same time, it has the function of reducing moisture, and the quality improvement effect is extremely remarkable.
ZM has the characteristics of low cost and high efficiency of coal separation and production, which can be customized into high-quality and environmentally friendly products according to the different market demand of users, and has the characteristics of low land occupation and high efficiency of coal separation and production.
APPLICATION

Steam coal separation. Maximize the efficiency of power coal separation with the lowest investment and operation cost, and the commercial coal after separation has low moisture, high calorific value and high recovery rate;
Chemical coal separation. Remove reject in raw coal and improve calorific value to meet the demand of chemical coal;
Pre-deshaling of coking coal. Pre-deshaling and removing fine coal of raw coal in the dense medium coal preparation plant, reducing the investment scale, operation cost and equipment wear caused by reject, and reducing the amount of slime;
Lignite and argillaceous coal separation. Solve the disadvantage that the above coal can not be separated traditionally by water, realize dry coal separation and create value;
Inferior coal separation. Engineering coal and dirty miscellaneous coal separation, recovering coal resources and improving resource utilization;
Semi-coke separation. Reduce ash and moisture, improve fixed carbon, and provide raw material quality assurance for chemical enterprises;
Desulfurization of high sulfur coal. It is suitable for removing pyrite and other impurities from high sulfur coal.
FEATURES
Customized design, high separation precision.
Customized design is available according to different coal properties; wet coal, lump coal and fine coal can be processed and the separation precision is higher.
Full enclosed operation, environmental friendly;
The whole system runs in full enclosed conditions, and it is equipped with self-developed multi-stage deduster to ensure zero dust emission
Modularized assembly, no civil construction, quick commissioning;
The whole system is consisted of several modular units, therefore, no huge civil work is required.
Automatic Centralized Control System, Intelligent control.
technological process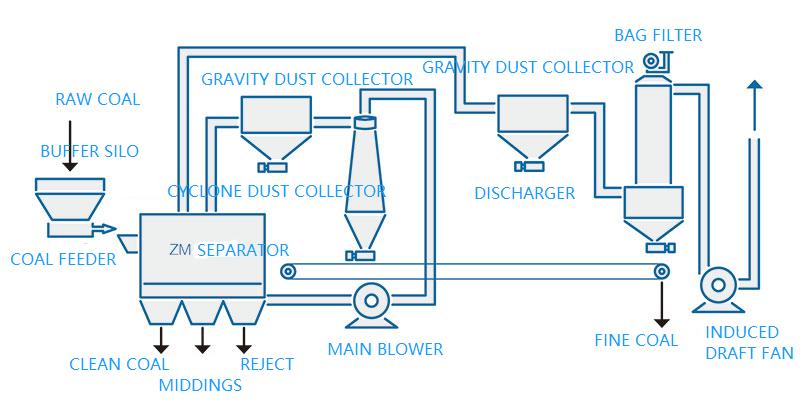 TECHNICAL SPECIFICATIONS
| | | | | |
| --- | --- | --- | --- | --- |
| TYPE | CAPACITY T/H | SIZE / MM | POWER | DIMENSION / M |
| ZM35 | 30-35 | 80-0 | 130 | 12.5*3.5*6 |
| ZM70 | 60-70 | 80-0 | 200 | 14*10.5*10 |
| ZM100 | 90-100 | 80-0 | 339 | 16*10*12 |
| ZM150 | 125-150 | 90-0 | 406 | 15*9.5*12 |
| ZM200 | 175-200 | 100-0 | 678 | 21*17.6*12 |
| ZM300 | 250-300 | 100-0 | 812 | 21*16.5*12 |
| ZM400 | 350-400 | 100-0 | 1200 | 22.5*24*12 |
| ZM600 | 550-600 | 100-0 | 1400 | 27.5*25*12 |
| ZM800 | 700-800 | 100-0 | 2400 | 45*24*12 |
| ZM1200 | 1000-1200 | 100-0 | 2800 | 50*28*12 |
All the technical parameters are for reference only, and it is subject to actual project design.
CLASSIC CASE

Yushujing coal mine is subordinate to Shanghai Miao mining company of Linyi Mining Group. It is located in Shanghai Miao Town, etokeqian banner, Ordos City. The coal type is non stick coal. Due to the fact that the reject in the raw coal is easily slimed in water, and the dry separation system is simpler than the water separation system and has a short construction cycle, which can solve the problems of high consumption of water washing medium, difficult treatment of slime water and high operation cost. Therefore, after investigation and investigation by the leaders of the group company, it was finally decided to cooperate with Shenzhou group and adopt BOO mode to build a dry coal preparation plant with an annual treatment capacity of 4 million tons. Through dry waste discharge of raw coal, improve product quality, do not produce slime, broaden market competitiveness and expand ways of comprehensive utilization of coal. The dry coal preparation plant covers an area of 3700 square meters and adopts modular design. The construction period of the project is 60 days. After the project is put into operation, 400000 tons of water resources can be saved, 6000 tons of medium consumption can be saved, and 12 million KW · h of power consumption can be saved every year.