DDU, DRY COAL PREPARATION AND COAL DRYING SYSTEM
The DDU, dry coal preparation and coal drying system independently developed by the dry coal preparation equipment engineering technology research center of Shenzhou group is applicable to the dehydration and waste discharge of high moisture raw coal, chemical coal and coking coal, so as to greatly improve the calorific value of coal.
The system integrates two patented technologies of low-temperature mixed flow drying and dehydration and dry separation. Materials of various particle sizes can be dried synchronously, and the dehydration rate can be controlled and adjusted. Dry separation has unique principle, advanced technology and remarkable reject discharge effect.
The system operates at low temperature and is equipped with high-efficiency dust removal device, which can not only ensure the safety and reliability of the production process, but also realize environmental cleaning. The system can flexibly switch functions according to the change of on-site coal quality, and carry out drying dehydration or dry reject discharge separately.

Features:
●Dehydration and reject discharge, double quality improvement effect.
●Graded low-temperature drying, the system is safe and reliable.
●The dry bag dust removal system fully realizes green production.
●The fine coal can be fully recovered and can be used as the finished fuel for injection combustion.
●The adjustment range of raw coal dehydration rate is wide, and the dehydration rate is controllable according to the market demand.
●It is suitable for drying, dehydration and reject discharge of all kinds of coal.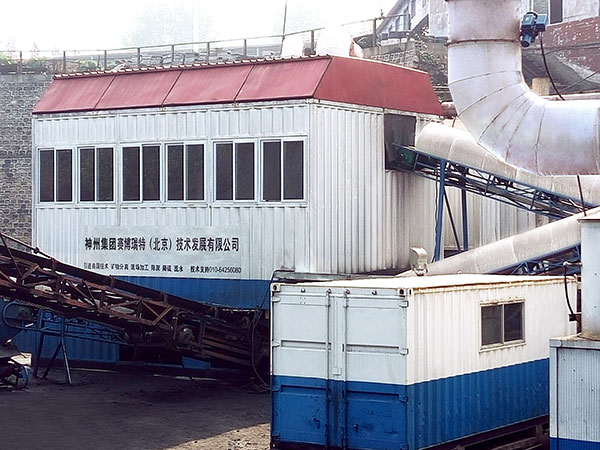 APPLICATION
The raw coal of Yushan coal mine is of poor quality, with high sulfur content, low calorific value, excessive moisture, and high content of fine coal (-13mm accounting for about 75%), which seriously affects and restricts the sales, and the coal mine is facing the crisis of shutdown. After many investigations, the mining party finally selected the double dry upgrading system of fine coal developed by Shenzhou group to solve the problems of unsalable products and poor economic benefits.